My introduction to perfume wasn't just about finding my Uncle Reno's musk. It also allowed me the opportunity, for the first time in my life, to appreciate art.
I was fascinated. As I started smelling perfume, I began to have an experience that I hadn't before. The experience was defined by two distinct facets that, when combined, sucked me into this whole perfume thing. First: logic. Smelling fragrances gave me something to think about. Second: emotion. I'd smell something and I'd feel a little patter in my heart. I suppose that is a physical reaction, but it stimulated an emotion of excitement, enjoyment, pleasure.
This connection between logic and emotion was new for me. Or, at least, newly recognizable. The experience was a newly discovered appreciation of art, an appreciation that I simply never had before.
I've always liked to listen to music like anyone else, though I never really cared about getting too into it. I had no desire to be an expert. I'd go to art museums and most often, I'd be bored. I'd read the captions below a painting or sculpture, and would be left with confusion as to why this particular piece is considered museum-worthy when I'm sure there are a million artists who could paint this exact same thing.
To be honest, I'm still not sure what makes a painting worthy of being hung in a museum, but the way I interact with paintings in museums now is very different. Now, I can stand in front of a painting for a long time. 10 minutes, 15 minutes, longer. My mind races. I wonder what the story is. I try to figure out what made the artist want to create it. I look at the strokes and am captivated by the construction of it. I lean in close and see the blending of the colors, the texture, the detail. I lean back and see how a small blob transforms into very specific detail – my mind actually making up those details automatically in service of the artist. I love how the reflection of light is manufactured, especially on images of water.
Similarly, when I hear a song that sounds good to me, I go to Spotify and listen to the whole album, songs in order. Sometimes I discover a new favorite that has never been chosen for radio play. Having the patience to fully experience something the way someone else intended is gratifying and luxurious.
Our society pushes everything into the realm of commodity. Everything is for sale. The primary purpose of everything is for it to be sold. This society defines economy as financial. In the case of music, unless you proactively explore, what you get to experience is only what you are most likely to buy. This isn't the vision of the artist, it's the vision of the company backing the artist. Certainly, production of the art is expensive, and without the company, I'd likely not even know the artist existed. I don't pretend to have an answer to this problem, but I think it's worth making the critique of the capitalist system that our ability to consume art is defined by finance. If we can acknowledge the flaws in the system, maybe we can at least chip away at the injustice it creates.
Early on, as I began to appreciate fragrances and dove further into niche and independent perfumes, one house that I explored was Maison Francis Kurkdjian. I got a sample of Lumière Noire Pour Homme and was fascinated. Liz loved wearing it too. I got a lot of samples, and picked up bottles of Baccarat Rouge 540, Grand Soir, and ordered, from Paris, Absolue Pour le Soir. I got Liz À La Rose as a gift.
I built a diverse collection of Francis Kurkdjian fragrances. Liz quickly found Baccarat Rouge to be one of her favorites. Some of the bottles are the only ones that, to this day, we genuinely both enjoy wearing and share. Each of the fragrances has a uniqueness, and I continue to be impressed by the innovation and creativity in most of his fragrances. They just don't smell like other things.
At some point after building this collection, I read an interview with Francis Kurkdjian where he dismissed the idea of perfume as art. He said that art is not his intent in creating perfume. I think he's in the minority of niche and independent perfumers, but, given my appreciation of his work, the statement hurt me. I had finally come to appreciate art generally, after finding it boring, or simply without logic, for over three decades of living, and now, one of my favorite artists was denying his own existence as such.
Because of my detest of capitalism and all the corruption that comes with it, I need fragrance to be art. It's status as art justifies it. It's not simply a cosmetic product. It doesn't exist solely for the purpose of beautifying one person in the eyes of another. Things that smell "bad" can still be beautiful. There are ideas and emotions that are conveyed through the sense of smell, and those who are most talented at communicating through smell are the best artists. Technical skill is necessary. That skill can make you a perfumer, but it's what you make with it that makes you an artist.
Over time, I have gotten over my disappointment about Francis Kurkdjian's ideas about perfumery as art. I'm still going to smell everything he makes. His skill is extraordinary. And even if it isn't his intention, his fragrances communicate to me through both logic and emotion. Maybe art, for me, is more about me than it is about the person who is creating the art. That also implies that my art is different than your art. I think that's something to celebrate.
There's one more thing I'd like to say about perfumery as art, which is challenging to articulate. I feel wildly lucky to have found an appreciation of perfumery as art. It has given me immense joy and entertainment. It's a vast world of details and technicalities and exciting discoveries to be made. Outside of the big industry of fragrance, there's democracy to be found – materials can be created and the internet allows for ideas to be communicated.
And because, in the scope of the whole world, not that many people are even aware of this little perfume corner, those who are interested get an amazing level of access to the artists who create the art that we so appreciate.
Andy Tauer was one of the first perfumers for whom I developed an immense appreciation. L'Air du Desert Marocain is my favorite perfume. I know that isn't unique, but I don't care. This perfume is the best thing I have ever smelled. And Andy's quirky, frequent Instagramming makes it even better. He offers insight into himself, his thinking, his personality. He signs a card with each bottle. The Tauer Mag is so wonderful because he's created a whole world around his art and guides us through that world in his own way.
One of my first orders from Andy was delayed, and when I emailed the generic email address to inquire, he himself responded. I was in a bit of fanboy shock. New to the whole perfumery thing, and knowing that L'Air du Desert Marocain is highly popular, I couldn't believe he was that accessible. To me, in this new world of perfumery, he was famous. And he was talking to me.
Now, I know this isn't as unique as I thought it was then. And while I'm sure I will be nervous whenever I get my chance to meet Andy in person, I have since had the opportunity to converse directly with a number of independent perfumers whose art has had immense impact on me.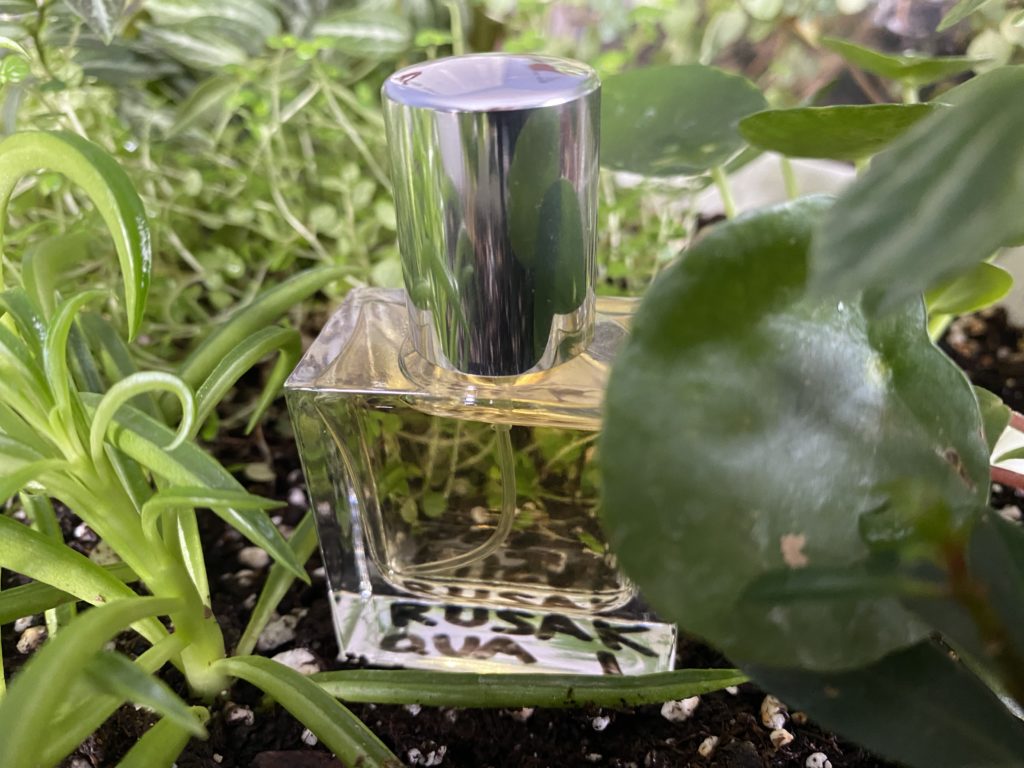 Chris Rusak is one artist who I deeply appreciate for his art and for his communication that goes along with his art. His Studio Series, where he sends subscribers vials of early iterations of his projects so that we can explore the evolution of those fragrances, gives a special insight into both the emotion and the logic. His willingness to have dialogue about any aspect of perfumery and how it relates to the world is, to me, invaluable. His fragrances are inspired and, among many other things, full of beauty.
I am lucky to have this sincere appreciation of art, generally, and of perfume, specifically. I am lucky to have discovered a way to derive joy and intellectual stimulation on demand. I am so lucky that with the next vial I crack open, I will learn something and feel something new.